Main content starts here, tab to start navigating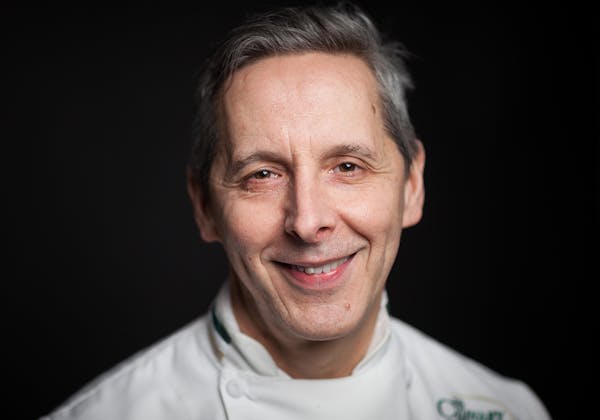 Giovanni Scappin
Chef-Instructor—Lunch
Education:
Diploma, Recoaro Terme Culinary Institute, Recoaro Terme, Italy. First Lower Certificate in English of Cambridge, Bournemouth, England.
Professional Background:
Co-owner/Managing Chef, Finch Tavern, Croton Falls, NY. Owner/Executive Chef, Gigi Trattoria, Rhinebeck, NY. Corporate Chef, Toscorp, NYC. Owner and Culinary Consultant, Bigoli, Inc., NYC. Lecturing Instructor, CIA. Executive Chef/Corporate Chef, Bice Group, NYC. Opening Chef, Bice Ristorante, Palm Beach, FL and Washington, DC. Executive Chef, Le Madri, NYC; Moreno, NYC; Castellano, NYC. Chef, Ristorante Villa Fossati, Milan, Italy; Grand Hotel Sestriere, Piedmonte, Italy; Italian Military Service, Belluno Italy; Grand Hotel Neroniane, Montegrotto Terme, Italy. Chef Tournant, Grand Hotel Excelsior, Venice, Italy.
Awards:
Guest Chef, James Beard House, NYC.
Author:
Italian Cooking at Home. A Tavloa! Co-author, Cucina & Famiglia.
Member:
Federation of Italian Chefs.
In Their Own Words:
Key Experience:
"I grew up in a small trattoria and started cooking at the age of 14. Cooking was something I was very passionate about. I also liked that it would allow me the ability to travel anywhere in the world. You can work anywhere with the right experience and passion. My passion for cooking and travel also gave me the opportunity to work as a culinary consultant on the movie Big Night (1996)—a story about two brothers who have emigrated from Italy to open an Italian restaurant in America starring Stanley Tucci and Tony Shalhoub. In addition, I created and operated a culinary consulting company, Bigoli, Inc., which specialized in Italian food operations."
Proudest Accomplishment:
"I am especially proud to have opened several restaurants including, Gigi's, Rhinebeck, NY; Le Madri, New York, NY; and Coco Pazzo, New York, NY."
Advice to students:
"Stick with your own idea of food but continue to learn and experience new things to fuel your passion. It is important to balance your life both in and out of the kitchen, while never losing sight of your life outside of the kitchen."
What attracted you to the CIA:
"I would say the lifestyle and having the opportunity to be an inspiration to students. I like motivating students to ask questions then providing them with the answers to keep them inspired"
Favorite classroom story:
"I like challenging my students to think differently about Italian food."